MoveOn Head-Stomper's Accomplice Organized Online For Anti-Obama "Machine Gun Shoot"
October 26, 2010 5:43 pm ET — Media Matters Action Network
This morning, one of the Rand Paul supporters who assaulted MoveOn.org activist Lauren Valle was unofficially identified as Tea Party activist Mike Pezzano. In a video of the incident, Pezzano can be seen holding Valle down on the ground while Tim Profitt — a county coordinator for the Paul campaign — stomped on her head.
According to his profile at ResistNet, Pezzano is concerned about issues including "Illegal Alien Amnesty," "Globalism," "Socialism," "Climate Alarmism," "Gun Control," and "Social Liberalism." Pezzano is also active on the website Meetup.com, where he is a member of the Rand/Ron Paul Campaign For Liberty and an "Assistant Organizer" for a gun rights group called Kentucky Open Carry.
On Meetup earlier this month, Pezzano organized for the bi-annual Knob Creek Machine Gun Shoot in Kentucky. While advertised as an opportunity to play with an assortment of big weapons and create "mushroom clouds and fireballs from hell," past accounts of the Machine Gun Shoot suggest the fun and explosions aren't divorced from politics. For instance, here's how Dave Weigel described it in the Washington Independent in April 2009:
This is a place where vendors can sell T-shirts that read "The Fourth Reich: Obama-Biden 2012," and "Hitler Gave Great Speeches Too.." and, most succinctly, "Fuck Obama." It's somewhere for people with hard-to-explain interests in World War II memorabilia can pick up items from Wehrmacht uniforms ("I'm putting the stuff together to make me a German officer," says a man buying a Wehrmacht officer's cap), Adolf Hitler mousepads ("Next time... no more Mr. Nice Guy"), and coffee mugs with Nazi commanders' faces etched on them.
Six months later, in October 2009, one vendor reportedly sold "a stack" of posters featuring this disturbing image: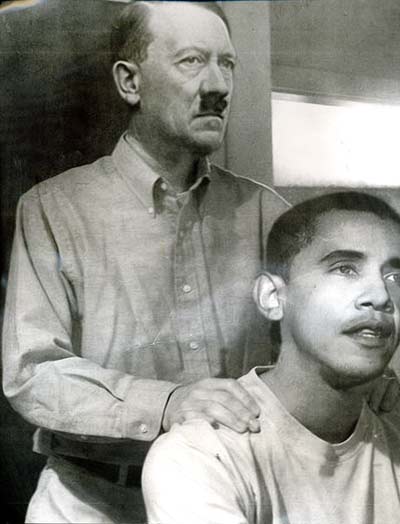 Notably, Rand Paul appeared at this month's event, where he took a direct jab at President Obama. "The president says that you're out here in the middle of the country clinging to your guns," said Paul, referencing Obama's controversial remark in 2008 that some Americans "cling to guns or religion" in times of frustration. "What I tell the President is, 'we're clinging to our guns, our religions and our ammunition.'"